---
There is now a new framework for inspections.
This framework sets out Ofsted's inspection principles and the main judgements that inspectors make. There are no changes to development matters as of yet.  Ofsted has published separate handbooks for early years, schools, further education and colleges.
The new framework puts less emphasis on data and more of a focus on a rich curriculum for life not just school. The new framework is a step in the right direction to instilling a love of lifelong learning and motivation, not drilling the motivation out of children which happens too often with the constant teaching for tests culture we now have.
Outlined in the EIF (2019), inspectors will make the following judgements about early years settings: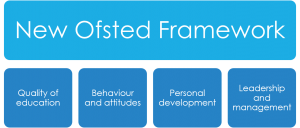 Overall Effectiveness
The Quality of Education
Behaviour and Attitude to Learning
Personal Development
Leadership and Management
 Quality of Education - Cultural Capital
A key new judgement is that on 'quality of education', focusing on the curriculum, which replaces 'teaching, learning and assessment' will focus less on assessment and more on how the curriculum is taught and its impact.
Within 'quality of education' is the much debated; 'cultural capital' which has got quite a few into a fizz on social media, questions such as 'How do we evidence this?'. 'What display do we do for this?' In the same way there shouldn't be British values displays, there also should not be cultural capital displays to show that settings are prepared for the new inspection framework.  It is clear we need a little clarity on what exactly 'cultural capital' means and what Early Years settings need to do about it.
The EIF 2019 states "It is the role of the setting to help children experience the awe and wonder of the world in which they live, through the seven areas of learning" .
Cultural capital was derived from sociologist Pierre Bourdieu in the 1960's to explain his research in the differences in educational achievement.  He found that the education system was set up for middle class children and could not be accessed by disadvantaged children, sadly this still seems to be the case.
Jen Barber, Early Years Consultant states "Acquisition of language is a key element of cultural capital, it is about supporting children who are less advantaged, we are building the foundation for later life". Cultural capital is a high quality education in Early Years ensuring that all children, especially disadvantaged children, are exposed to different experiences, cultures and communities within the curriculum. Vanessa Dooley, Early Years Consultant and ex Ofsted Inspector points out that is not just about disadvantaged children "Cultural capital should be about providing more experiences for ALL children which they have not yet had, not just disadvantaged children. Each child is unique and its up to us as practitioners to ensure we ignite their curiosity".
Dr Sue Allingham, Early Years Consultant and Author says "put simply 'cultural capital' means the all the experiences that have made us who we are.  So, our backgrounds, traditions and beliefs that shape our perceptions of life and how we live it. It is vital that we value the 'cultural capital' that everyone brings to the setting, and that we include it in the mix that informs our pedagogy.  As Alexander (2004) notes in his definition of culture, this is complex.  But it is pivotal to understanding how we teach.  We must celebrate the diversity and uniqueness of all we meet and work with. There are some weasel words in the Ofsted definition of 'cultural capital' that suggest that only some children arrive in our settings with the 'capital' they need for school.  It is no surprise that, originally, their phrase 'different experiences' read 'poorer experiences' until many of us complained.  It is not for us to judge; it is for us to develop and inform our pedagogy accordingly to bring out the best in all the children".
I recently read a beautifully written statement by Juliet Mickelburgh at Foundation Stage Forum which sums up perfectly the aim of the incorporation of cultural capital; An engaging curriculum should have secret doors in familiar worlds where children open doors into worlds they didn't know existed. This may or may not result in higher attainment, fitting puzzle pieces into the gaps, but it will excite and engage them and plant a seed of curiosity in their future.
Early Years Staffroom have added a section in each baseline that we have created to summarise the child's cultural capital at the start of their learning journey (the experiences children arrive with) it doesn't need to be measured but it is useful to sum up at the start and the end of their journey reflections on this. Once you look at experiences children have not had, for example, not having stairs or a garden, Early Years Educators can plan experiences that include stairs and outdoor spaces, perhaps visiting botanical gardens. It is adding experiences and language that children have not already experienced.  Some children may not be allowed to take risks so focusing on risk taking activities would be important to that child. Each child is unique therefore their experiences will be unique also.
Behaviour and Attitude to Learning
Inspectors will focus on the dispositions for learning such as the characteristics of effective learning, well-being and involvement and how the setting promotes this, all skills needed for children to learn in the future.
They want to see teachers and children thinking outside the box.
Personal Development
Personal development is a strong focus in Early Years and settings need to prepare children for life by instilling values such as respect, honestly, kindness, courage, understanding diversity. Children are never too young to 'feel' these values. To find out more about a values based education please see here : valuesbasededucation.com
Leadership and management
The focus is highly on staff well-being and reflection. Do you need to reflect on your Early Years practice? As well as high quality training and monitoring of staff. The Early Years Staffroom have devised a comprehensive Managerial Audit for settings to use to not only prepare for their inspection under the new framework but to embed this practise in the day to day and ensure they are fully aware of the new EIF 2019.
You can also use the Early Years setting evaluation sheet to record some notes around the 3 I's; Intent, Implementation and Impact during periods of reflection which has been developed using the EIF 2019.
The new EIF Early Years Inspection Framework (2019) can be downloaded here
Ofsted have also produced a handbook for inspectors for Early Years Settings, it can be downloaded here
And for Schools, download here 
Read more Early Year Staffroom Blog 
Written by Katherine Houghton, Early Years Consultant - Early Years Staffroom - Resource and Planning Website