---
Settling in – Early Years Settings, Schools and Year 1
Since Covid schools and settings have changed their settling in procedures to minimise the risk of covid which has had a negative impact, in that some children have taken longer to settle. Children who are not settled are not learning as their basic needs are not met. So it is important, even if you are not new to early years, that you reflect on your setting in procedures and hopefully this will help you do that.
An effective transition gives you a great head start in your knowledge of your children hence you will be able to plan and teach effectively. If transitions are not managed well in Early Years, children will be unsettled for longer and their well-being will dip. When their well-being dips, they will not only be unhappy and demotivated and their learning will also be negatively affected.
Communication for new parents
Parents are often more anxious than their children when it comes to starting Nursery or School! Calm and confident parents will help children feel calm and confident. Therefore it is a good idea to have sessions for parents to show them how things work in your setting or school.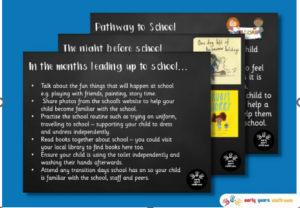 You might do a PowerPoint presentation and you might have stay and play sessions, do home visits. We have home visit questions to ask and a home visit risk assessment ready to download.
You may also want to deliver a presentation to parents about moving from Reception to Year 1.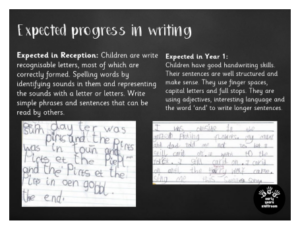 How to ensure children settle in well and keep their well-being high
It is important to make sure you continue to use the characteristics of effective learning. For example, in Reception children learn independence by being independent. I remember when I was teaching in Reception and the children were very independent in choosing their own reading books, what they wanted to learn, which paints they wanted to use, then they went into Year 1 and their books were chosen for them, work was put out for them, paints chosen for them. The effect of independence going backwards effectively is demotivating. It is important that teachers in Year 1, Reception and Nursery all come together to share how they work, even better to visit each other's settings/classes so that you can mirror how the previous class worked. Then mould gradually into how you want to work.
A transition plan
It is always good to have a plan! In your plan you can include transition visits for the teachers, small group visits to the new class – giving more time to any children who need it,swapping teachers for certain activities, joint trips, transition day, speaking on the phone with other settings, home visits, small group sessions to start in September.
Not all schools and settings will start off with small group settings and it is not always better for the children to start small sessions at school when they are already used to full day at nursery. It is important that you do what is best for your children at the time. The Teacher knows best I like to say! If you like to have a written detailed transition plan we have one that is for our members ready to download here.
It is so important for all settings and schools to work together effectively to ensure a smooth transition for them. One quick meeting will not work; it is a long-planned process, like moving to a new house.
Transition Policy
You need to ensure you have a policy in place with the Nursery/Pre School or with year 1, and not only that, it needs to be used.
It should be agreed with all parties, including parents. It's important for them to be aware of your policy as they also need to be transitioned. You can transition parents by holding a meeting together (for example reception and year 1) to explain your plan to them.
We have created a transition policy available to use for your setting or class.
Supporting KS1 teachers with understanding the EYFS
In an ideal world all EYFS teachers would have taught Year 1 and Year 1 teachers taught EYFS but that isn't always the case and the curriculums are very different. Therefore training may be needed for Year 1 teachers on the EYFS and how it fits in with the national curriculum. We have created PowerPoint presentations to help with this.
When transitions are managed effectively children will make brilliant progress!
Katherine Houghton - Founder & Director, Early Years Staffroom