---
Play holds such an immense value that it should never be underestimated as a vehicle to support children's learning and development.  In fact, it's vital that children have extended, uninterrupted time to play, in the Early Years and beyond.  The impact of play is wide and far reaching, influencing language development, social skills, problem solving, critical thinking…. in fact all areas of learning within the Early Years Foundation Stage (EYFS).  Research points to the huge importance of play on children's wellbeing.  In recent years, research into brain development has been particularly illuminating, further emphasising the significance of play.
The Early Years forms the foundation for all future learning.  It is play which underpins the Early Years, reflecting the importance of enabling it to occur freely, meaningfully and within a quality environment.  Defining play has always been a challenge, perhaps because it has such a huge scope and influence.  There are many interwoven elements to play, all impacting on a child's learning, development and wellbeing.
What's our role?
Our role as educators is to facilitate quality play experience within an environment where children have the freedom to express themselves and follow their innate drive to be curious.  The Early Years Staffroom environmental audit will help set up an environment that promotes the characteristics of effective learning.  Adults working with children need to be able to recognise their role in supporting play.  The Early Years Staffroom have developed a guided to aid practitioners.  This involves understanding the value of child initiated play as well as the skill involved in sensitively joining play.  Child led and adult led experiences both hold value and can both be meaningful and purposeful to the child.  The importance is in knowing the children well, observing their play and characteristics of effective learning and understanding when to model and scaffold.  This approach sees us responding to children's interests as well as appreciating the need to sometimes challenge and extend play.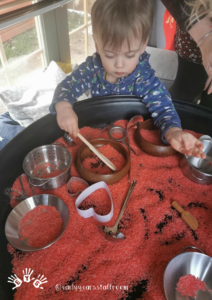 With the increased focus on communication and language development in the revised Early Years Foundation Stage, it is important to understand the role play can have in supporting development in this area.  This can be through children's self-talk, them sharing their ideas with others, listening to language from peers or developing their play with a narrative.  Children hear and begin to use new vocabulary as well as developing their understanding.
It can be a challenge to 'read' play and this often comes with time and experience.  We know that children enjoy having us as play partners but also that they benefit from time to think through their own ideas.  Adults need to reflect on what they are observing, make sense of it and make a decision as to whether it's appropriate to join the play.  It's important to remember that we let the child lead, so should avoid closed questions which inhibit the play and prevent it from flowing freely.  Some play may be solitary, some in groups of children, some with adults.  Play might sometimes have an agenda, a specific purpose defined by the children.  Other times it could be more free, without goals or intentions.
There are times when we can introduce adult led play experiences.  These can be opportunities to introduce new ideas and concepts or extend interests. Planning ideas based around interests are available on the Early Years Staffroom website.  Even though adult led, these experiences should still be playful – after all, we know the significance of play on learning. To have the most benefit, this type of play should be open ended, enabling children to experience some challenge but without any right or wrong way to play.  Children still get to express themselves, make choices and engage in a practical, active and hands on way.
It's important to remember that all children will join our settings with their own knowledge, skills and experiences.  This will impact on the way in which a child chooses to engage in play.  For some, play will be a spontaneous experience, whereas for other children, adult support may be necessary to prompt and guide play initially.  This goes back to us recognising the unique child – not all children will join us as, confident, expressive, playful children.  Some may be more reserved, taking time to settle, impacting on their play.
Our role is to nurture, get to know, understand and take time to appreciate the play skills and choices of all.
What works for you…
The play opportunities you offer at your setting will depend on the ages and stages of development of the children in your cohort, your resources, the space available to you and the interests of the children.  Another factor impacting on play will be the skills, knowledge and experience of the adults.
Good links with families with enable the setting to build a holistic picture of the children, which will feed through into your provision and planning.  This will help you to create an environment which facilitates interesting, inspiring play opportunities which excite and challenge children. It's important for them to feel a sense of control over their play, enabling it to remain purposeful but without us imposing our own ideals.  Play needs to take place at the child's pace so they can focus their ideas and keep the play going.
Think about the structure of your day and the routines.  Is there time for extended play where children can become deeply involved and develop their ideas?  Are children able to return to their play later, such as after lunch, or the following day? Regular observations and audits of your provision will be valuable in helping you understand how your provision and practice meets the needs of all children.  It is also important to acknowledge that your environment should be flexible and adaptable, ever changing to meet the needs and interests of the children.
Bringing everything together will see the development of a playful practice and provision with the child at the core.  Observations will help you understand the effectiveness of the environment and adult interactions, flagging up areas for professional development.  Your well thought out, playful environment and knowledgeable, skilled and sensitive adults will enable children to feel safe and secure.  This will help children have the confidence to let themselves be free in play and therefore impact on their learning and development.
Have fun playing!
This blog was written by Emma Davis,  an Early Years teacher and Preschool setting manager in rural Herefordshire. She holds a foundation degree in EY, BA Hons in integrated working with Children and Families, MA in Early Childhood and is currently studying for a PhD. Emma is also a Forest school leader and designated safeguarding officer and is a resource creator and blog writer for the Early Years Staffroom.